The Buying Cycle
Billboards. Boosted posts. Retargeted Ads. CTV. Banner Ads. The list of marketing options goes on and on. Marketing is a tool that businesses can use to achieve goals from increasing brand awareness to increasing sales, to even creating completely new industries. But how do you know which type of marketing will be most effective? Enter the buying funnel.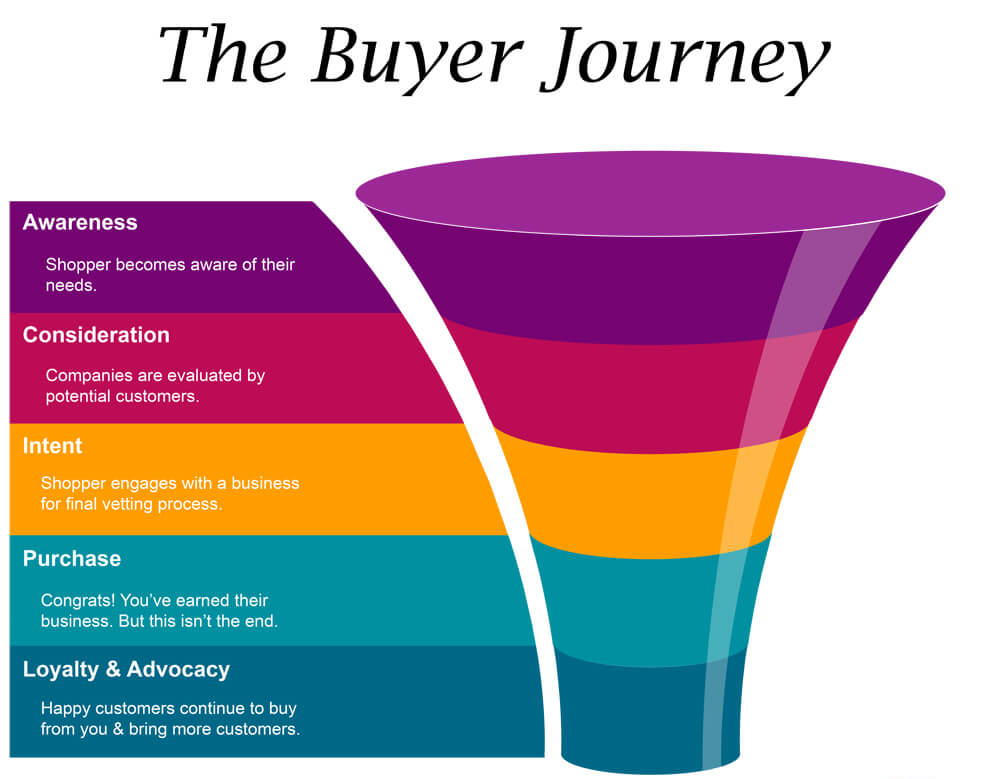 The buyer's journey is the path that all customers take before making a purchase decision. This process can happen in seconds or take months, but in general, this is the path your customers will take. Understanding the different stages of the buying cycle, and how your message satisfies each step, will help you to formulate a multi-layered marketing campaign that will convert shoppers into customers.
The Funnel
Awareness
Consideration
Intent
Purchase
Loyalty & Advocacy
Awareness
The first step in a customer's buying journey. At this stage, the shopper has become aware that they have a need for a product or service and need a company to fulfill that need. This is the broadest stage of the sale cycle.
Consideration
At this level, a potential customer is evaluating a company's ability to meet their needs. This is one of the most influential stages of the buying cycle. Marketing must effectively convey your benefits to your target customer at this stage or risk losing out on a customer.
Intent
Some buying funnels do not include this level, but we do. Intent takes consideration a step towards closing your customer. Your target will be actively engaging your company profiles at this stage. This is where testimonials and reviews play a major part in the vetting process.
Purchase
Congrats! You've got a sale. But don't get stuck in the trap that most companies fall into. There are still two levels left in the customer journey.
Loyalty & Advocacy
Customer loyalty is how you win repeat business. Think companies like Nike or Apple. The easiest customer to sell to is one who has happily done business with you already. Re-engaging your past customers helps them develop brand loyalty. When done properly, loyal customers will become "brand ambassadors" for your company. They can help to recruit new customers and spread your company message throughout their network.